What are the types of scaffolding couplers?
Views:0 Author:Site Editor Publish Time: 2021-03-17 Origin:Site
Scaffolding couplers are essentially the basic components used to assemble tube-and-foot connector scaffolds, which are used in a wide range of applications and have specific production targets in several countries around the world. Since the introduction of scaffolding into the market, the variety of scaffolding couplers has increased. This article will take stock of some of the common types of scaffolding couplers on the market and bring you some advice for using it.

The common types of scaffolding couplers
Where can scaffolding coupler be applied?
Storage advice for scaffolding couplers
The common types of scaffolding couplers
·Swivel scaffolding couplers
The rotating scaffolding coupler is usually used to connect support elements. It is made of drop-forged or pressed steel in a robust design, which is designed to increase the durability and reliability of the rotating scaffolding coupler.
·Right-angle scaffolding couplers
A right-angle scaffolding coupler is a scaffolding coupler that connects at right angles so that the tubes are arranged at right angles. It is also the most common type of scaffolding coupler and it can be used to resist tensile or compressive loads.
·Sleeve scaffolding couplers
Sleeve scaffolding couplers allow the steps of the tubes to be connected end to end coaxially. This type of scaffolding coupler is generally used for end-to-end connections of scaffold tube standards.
These are the common types of scaffolding couplers. Regardless of the type of scaffolding coupler, they are all hot dipped galvanised finish and have corrosion resistance and durability. We recommend that you identify the type of scaffolding coupler and understand the correct method of erection before purchasing a scaffolding coupler. Different scaffolding accessories are connected in different ways, so it is important to analyse each case individually. Because the safe and secure connection is a matter of safety and life safety at a later stage of construction, the builder must be professionally trained.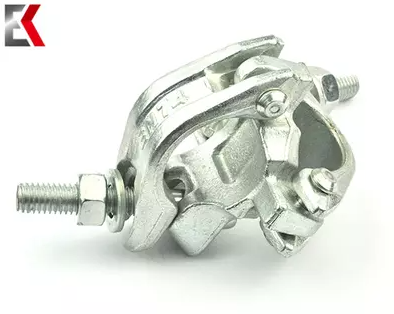 Where can scaffolding coupler be applied?
Scaffolding couplers can be used in all areas of construction and the variety of processing techniques and products makes them a central part of the construction industry. What's more, they are portable, easy to load and unload and have a good load capacity, which greatly increases efficiency and reduces transport costs. The use of scaffolding couplers is indispensable in both urban and rural construction.
Storage advice for scaffolding couplers
Although scaffolding couplers are highly resistant to corrosion, it is advisable to store them indiscriminately, especially in sunny areas. If you forget to put them away, the quality of the couplers can be damaged by prolonged exposure to the sun, which can affect their use and even lead to safety accidents. At the same time, avoid letting the scaffolding couplers touch hard objects, which can cause damage to the connectors, and do not place them under heavy objects, which can crush the connectors.
From the above information, do you have a further understanding of scaffolding connectors? Our company's scaffolding connectors are widely used in various types of scaffolding projects. Usually there are European standards and Japanese standards. EK, as a leading scaffolding connector supplier in China, focuses on introducing scaffolding fasteners that conform to European standards to meet the production standards of different countries. For each scaffolding coupler, we have a strict production process. If you need to know more information, please follow us in time.